Really?  Really!  You couldn't check before you left home?  You could just … i dunno … not use your phone for a ride?!!!!!  I had to check it wasn't an April Fools.  I shake my head in abject despair…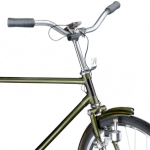 Green, I know, but really?  did you see the bicycle clamp?  That would look so great on your tit bike.
Obviously technology has vastly improved since the 'vlou liggie dynamo' days with settings to prevent power surges and its only compatible with Nokias that have the 2mm power jacks.  So if this is your kind of thing then its important to know that this is not yet available and Nokia are still to decide on a sale price.
For the rest of us …. Really?
And before you guys that do long endurance races get on my case this is Nokia specific if you are planning on touring or doing the freedom challenge or the epic and need something that can charge your phone, gps and ipod then best you get a "PedalPower+" charger
Still bulky it attaches to the handlebars  but the really great thing (apart from the fact that is has moved into the 21st Century) is that this charging device comes in a hub version (move over dynamo) for the more, shall we say, hardcore guys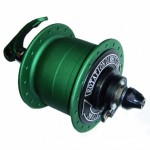 much better.