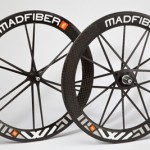 Seen at Interbike 2010 – MadFiber make one of the best all carbon fiber wheelsets …  why you ask … "It's a 1,080g road wheelset (60mm front, 66mm rear rims) that can max out the company's static crush test, and thus carries no rider weight limit, but comes with a four-year warranty and, at US$2,600, is relatively cheap compared to the competition (who are asking upwards of $6,000)"
The spokes (12 front, 18 rear) are made from five plies of carbon and bonded to the hub flanges and rim walls. The outer layer of the spoke is wrapped in 12k fibre to keep it from splintering due to normal wear and tear.
For more technical info and to read the full article visit:
www.bikeradar.com/news/article/interbike-2010-all-carbon-super-wheels-from-mad-fiber-27895
According to their MadFibers website you could choose MadFiber wheels for the flattest, fastest, windiest days – and not pay a price in added weight.  Wheels come with skewers, cork brake shoes, and valve extenders.
Visit their website for more info on their products, warranties and of course to purchase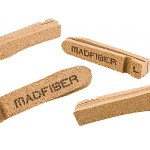 mmm yummy, a weight weenie feast
Happy cycling