Aren't personalised gifts just the best?  Especially if it's making something you already use, something you want to use even more because just the sight of it brings one of those warm, twinkly-eyed smiles to your face and a cuddle to your heart.
Was that too mooshy?
Probably.
However, I'm pretty sure that's what happened to Janet's face and heart when her hubby presented her Bianchi to her after its transformation from this:
to this:
and every time she rides it she feels those things because she's seeing
and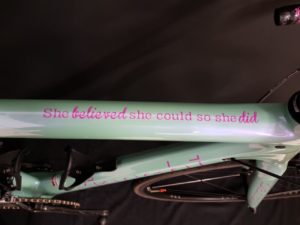 and HER name instead of "Edoardo Bianchi"
Isn't it cool?
Here are the rest of the details for your enjoyment: