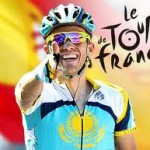 Tour de France champion Alberto Contador has scheduled a news conference for Thursday to address reports of an apparent positive test for the bronchodilator clenbuterol.
Contador, a three-time winner of the French national tour, apparently tested positive for the drug in tests conducted on July 21, the second of two rest days in this year's race and was notified of the result on August 24.
According to a release issued by his publicist, Contador is scheduled to hold a press conference at noon Thursday at the Hotel Las Artes in his hometown of Pinto, Spain. Contador has assembled a group of experts who will contend that the positive test is the result of "food contamination."
"The experts consulted so far have agreed also that this is a food contamination case, especially considering the number of tests passed by Alberto Contador during the Tour de France," the release asserted.
Contador said that a review of data supplied by the UCI makes it "possible to define precisely both the time of the emergence of the substance as well as the tiny amount detected, ruling out any other source or intentionality."
Clenbuterol is a synthetic bronchodilator often prescribed to asthma sufferers. It is also regarded as a stimulant and has recently been used in off-label prescriptions as a weight-loss drug akin to ephedrine. The drug is on the World Anti-Doping Agency's banned substances list and is specifically banned under Article 21 of the UCI's anti-doping rules.
RadioShack's Fuyu Li recently was suspended after testing positive for clenbuterol at the 2010 Tour of Flanders.
While Contador appears to be challenging the result of his A sample, he has the option of requesting and overseeing the testing of a second sample. Failing that, he risks becoming only the second rider in the history of the Tour de France to be stripped of his title because of a doping violation. American Floyd Landis was found guilty of a doping violation following the 2006 Tour.