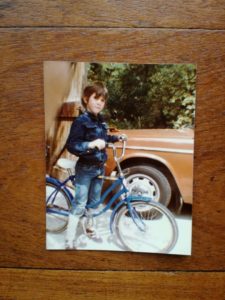 Learning how to ride a bike at any age is always a heart pounder.
As first time experiences go it must be right up there with winning something, kissing someone and jumping in the sea at Llandudno beach for the first time without having toe-tested the water.
That excitement definitely made a lasting impression on Jared when he first took his maiden flight of freedom on his blue Raleigh (as above, complete with knee high socks) on a field up the road from his family home.  That quintessential moment of thinking dad was still holding onto the saddle and then looking back to see him waving from a distance.
He was in love.
But as it is in life, Jared also loved other sports like soccer and cricket.  Particularly cricket.  He was really good at cricket.  Did we mention he was really good at cricket?  So when it came to being asked what he wanted to do with his life after school his answer may have come as a surprise to his friends and even himself, when he said:
"I really really really want to have my own bicycle shop one day."
The truth is, he'd nurtured this bicycle love all his little life.  So it seemed only natural that he would want such a thing, right?  Who cares about cricket!
This led to job shadowing in the workshop of one of Cape Town's first bicycle shops, Soloped, resulting in him being a bicycle technician there as his first post-school job.
Jared was in his element.
The dream was cemented.
So a few years and a job change or two later, he met his wife, Mel, who helped him to start putting his dream into action and together they opened BMC in 2004.  Their aim was and still is to fill the gap when it comes to the post-purchase servicing requirements of dedicated cyclists.
It's been one heck of a journey with a team committed to keeping the sport of cycling alive.
Together we strive to give you the best service humanly possible.
Let's Meet the team